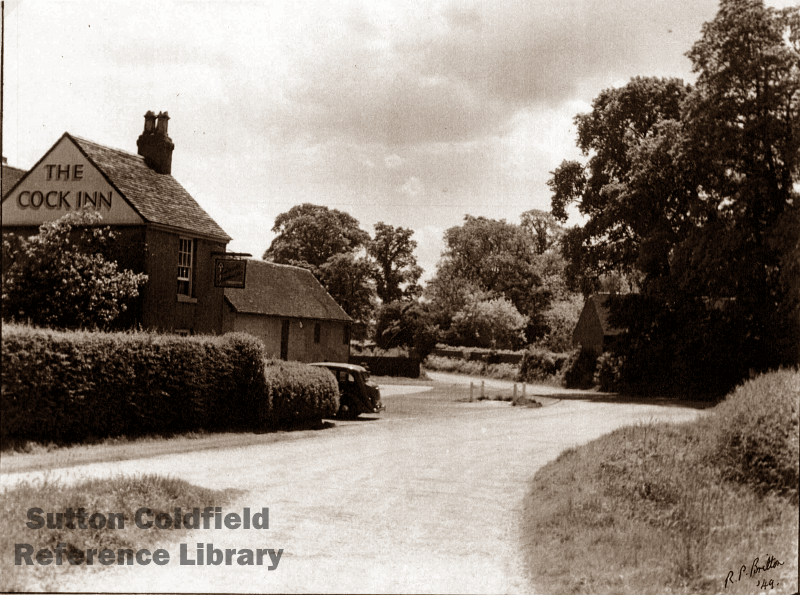 Collets Brook forms the north-eastern boundary of Sutton, as it did in 1824 when Mr. Harris, the Commissioner for the Enclosure of the Commons of Sutton Coldfield, made his survey. He followed the stream down through Swash Vale to Taylor's Lane (now Withy Hill Road), where the brook ran alongside the road for sixty yards before crossing the lane as a ford. Now there were open commons on the Sutton side, known as Windmill Field - there may once have been a windmill at nearby Langley Mill Farm.
When the brook reaches London Road (now the A446) the Sutton Boundary follows a tributary stream, the Langley Brook. This was a remote area, the site of the Holly Lane murder in 1727, but now busy with traffic as the stream passes beneath the point where the M6Toll road crosses over the A38. The Commissioner describes the boundary as leaving the brook a little way and coming to "a Gospel place where a Cross is made". This is the only evidence we have in Sutton for the ancient custom of beating the bounds, a practice made unnecessary by the accurate surveys of men such as Mr. Harris. Every few years at Ascension tide the parish priest, churchwardens and some boys used to make a tour of the parish boundary, marking the boundary features so that the next generation would remember them. Every so often they would stop for prayers and Gospel reading, as at this spot, where the boundary makes a right-angle turn to follow a course parallel to Lindridge Road (then known as Holly Lane).
Mr. Harris followed the boundary along Lindridge Road to Holly Lane "where a finger post had used to stand"; Holly Lane was described as "The Road leading from Foul Slough Lane (Ox Leys Road) to the Coleshill and Lichfield Turnpike Road". From here the route runs across fields and meadows, and Mr. Harris must have relied on someone who had been beating the bounds to know which hedge or ditch to follow, and a whether a particular cottage was in Sutton or Wishaw; when he reached Grove End he came to "a Gospel cross on the road leading from Foul Slough Lane to Wishaw Lower Green."
From Grove End the boundary followed this road (now Grove Lane) across the little brook called Wallowell Brook to Over Wishaw Green, and so "proceeding to the centre of the door of the Cock Public House occupied by John Sandon". Mr. Harris's account of his perambulation of the Sutton boundary does not say, but no doubt the pub was a welcome sight.