Sarah Holbeche Diary Page 10
Author:

Janet Jordan

Sarah Holbeche Diary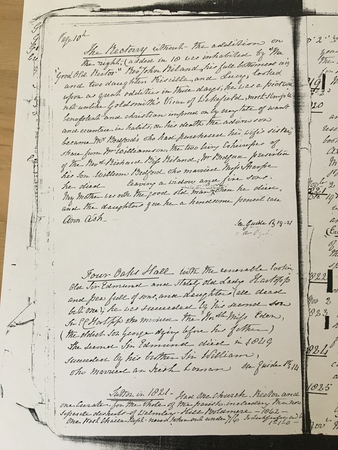 Page 10
The Rectory without the addition on the right (added in 18--) was inhabited by the "Good Old Rector" Revd John Riland, his full bottomed wig and two daughters Priscilla, and Lucy, looked upon as great oddities in those days, he was a picture not unlike Goldsmith's Vicar of Wakefield, most simple benefolent and christian imposed on by every tale of want and eccentric in habit; on his death the advowson became Mr Bedford's who had purchased his wife's sister's share from Mr Williamson, the two being coheiresses of the Revd Richard Biss Riland, Mr Bedford presented his son - William Bedford, who married Miss Sharpe. He died leaving a widow and five sons. My Mother was with the good old man when he died and the daughters gave her a handsome pencil case.
Ann Ash See Guide Pg 19-21
Four Oaks Hall with the venerable looking Old Sir Edmund and stately old Lady Hartopp and pew full of sons, and daughters (all dead but one) he was succeeded by his second son Sir L C Hartopp who married the Honourable Miss Eden, (the eldest son George dying before his father). The second Sir Edmund died in 1849 succeeded by his brother Sir William, who married an Irish Woman. See Guide Pg 14.
Sutton in 1821 - Had one Church Rector and one Curate for the whole of the parish, includng the now separate districts of Walmley, Hill, Boldmere - 1862 - One Post Chaise kept - never taken out under 7/6. to Lichfield and back 1£-1s-0.