Sarah Holbeche Diary Page 11
Author:

Janet Jordan

Sarah Holbeche Diary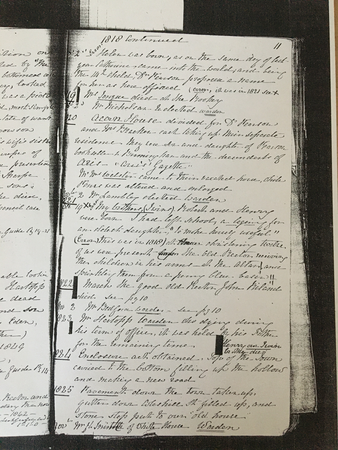 Page 11
1818
continued
Nov 2
(error) Helen was born as on the same day as last year Catherine came into the world; and being the 14th child, Dr Pearson proposed a name for her as her affixed (error, it was in 1821, see ***)
1819
Mrs Tongue died at the Rookery.
Nov 2nd
Mr Nicholson re-elected Warden.
1820
Acorn House divided for Dr Pearson and Mrs Bracken, each taking up their separate residences. They were son and daughter of Pearson bookseller in Birmingham and the descendant of Aris - "Aris's Gazette". Mr and Mrs Webster came to their vacated house, while Penns was altered and enlarged.
Nov 2
Mr Lambley elected Warden.
1821
Dec 19
** Error - My brothers (twins) Robert and Henry were born. I had left school, a beginning for an eldest daughter, "to make herself useful". (Error) - this was in 1818) at their christening twelve of us were present. The Old Rector receiving the children in his arms - at the altar and sprinkling them from a funny blue basin!!
1822
March
The good old Rector John Riland died. See pg 10.
Nov 2
Mr Bedford Warden - see pg 10.
1823
Mr Hartopp Warden who dying during his term of office it was held by his Father for the remaining time.
Henry our twin brother died.
1824
Enclosure act obtained. Top of the town carried to the bottom filling up the hollow and making a new road.
1825
Pavement down the town taken up, gutters down Coleshill St filled up, and stone step put to our "old house".
Nov
Mr Jh Smith of White House Warden.